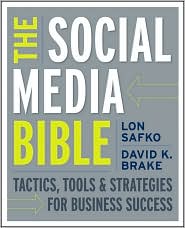 Over a dozen Arizona experts are behind the recent launch of "The Social Media Bible," which was published by John Wiley & Sons and available on Amazon for $29.95.   The 821-page reference guide is the brainstorm of Lon Safko and co-written with David Brake.
Lon used his social network to get to Wiley – first contacting Joan Koerber-Walker who introduced him to David Brake, who knew someone who used to work for Wiley.   Back in 2007, when he first heard about social media, Lon saw an opportunity to create a "bible" in the early stages of the phenomenon's development.
If you're just getting into social media, you're the perfect audience for the book.  "Social media experts already understand most of the content," says Safko.  "My audience isn't the 0.001% of the population that gets it.  It was designed for the rest of us."
I read most of it (skipping certain parts) and learned quite a bit.   (Disclosure – I was a lucky attendee at the recent Social Media Symposium in Phoenix to win a free copy).   It's divided into three sections:  Background, Tools, and Strategy.  There are "expert insights" throughout the book that add real-life examples and perspectives on the concepts and tools described.   You can read the bible straight through, or use it as a reference tool.   The only part of it I found less interesting was the blurb on each tool that gave its genesis – I really didn't care, to be honest.  Just wanted to find out what it was and how it worked.   Since I have tendonitis in my hands and use Dragon's voice recognition software for most of my writing, one of the tools that was interesting to me was Jott.  Jott takes your voicemail and turns it into text and delivers it to your inbox as email.  That's a great tool when you're out and about and can't even type much on a Blackberry because it hurts your hands.
The Social Media Bible proves that you don't have to live in Silicon Valley to be part of the social media craze.   Some of the local "celebrities" who contributed to the book include Steve Groves, Amanda Vega, Francine Hardaway, James Archer, Evo Terra, Doug Bruhnke, Dan Willis, and Dan Nienhauser.
The obvious question I had for Lon was, why isn't it available in electronic form yet?  According to Lon, the target audience is "comfortable finding [the information] in books.  I am sure that later down the road the publisher will release it for Kindle."  Given how large the book is, I found it extremely helpful to have it in printed form.
For more information on the book, visit www.thesocialmediabible.com.
Tweet
Categories
Recent Comments
the rumors are true (@ Neighbor from the 90′s)...

Sorry to see you go. avic-x920bt

First the Space Shuttle program and now this???? OH NO!...

I think it's really funny that Jason donates money...

Sad to see you go Mr Len… been a great ride
Blogroll
Online News
Tweetroll